Welcome!
Welcome to Hanley Print & Promotions formerly Hanley Business Forms. We changed our name to better represent the products and services we offer. We have been providing printing solutions to businesses since 1974. We offer a full line of custom and stock business forms, labels, tags, letterhead envelopes,full color brochures, presentation folders and more..... If you are an exhibitor at a trade show, celebrating an event or promoting your brand, call Hanley Print & Promotions for imprinted and embroidered promotional products such as shirts, hats, jackets, mugs, pens, gym bags and more... To search our vast promotional product database, click the "Search" button. After you perform your search, you can see detailed information regarding any product. If you see an item that interests you, you can easily add it to your online cart. Click "View Cart" at any time to review the items in your cart. Don't forget that you have to check out by clicking "Check Out" in order for your cart to be sent to us. Our site will automatically save your cart for up to 90 days as long as you visit us again from the same web browser.
Featured Item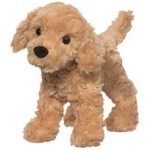 Thatcher Golden Retriever
Add your logo with a printed accessory! They will be wagging their tails with excitement when they receive Thatcher the Golden Retriever! This plush dog is perfectly breed-specific thanks to the softe...